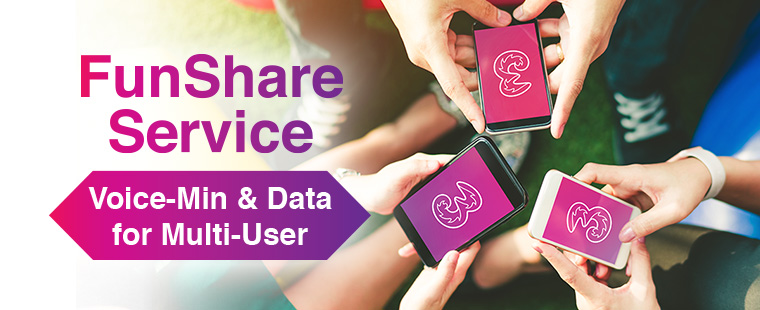 FunShare service
Share the data and voice minutes with maximum 4 accounts under same name while applying the designated Macau-HK Share Offer.
Monthly Fee

$68
$98
$138

$198

$278

Macau-HK Sharing Data

1GB

2GB

3GB

6GB

10B

Macau-HK Voice Mintues Basic + Heart to Heart

1,200 + Unlimited

1,200 + Unlimited

1,200 + Unlimited

1,200 + Unlimited

2,200 + Unlimited




China IDD Mins

100

100

200

300

500

Intra Local SMS

Unlimited

Unlimited

Unlimited

Unlimited

Unlimited

Free VAS

Call Number Display, Call Waiting, Call Forward Bundle, Conference Call, Voice Mail*
*VoiceMail Service is only applicable for Monthly Plan of $138 or above.
"FunShare Service" (service) allows maximum 4 numbers under same name. Credit card auto payment is required.
Thereafter charge after shared data is consumed is $0.0008/KB for each number with charge cap $500. When overall shared data or thereafter data usage reaches to 40GB, infinite data amount at throttling speed not less than 384kbps will be provided.
Only applicable to designated Macau-HK sharing plan. Unlimited data and minutes are not applicable to this service.
Top up service is not applicable.
IDD, roaming service are separately applied for each number. Deposit is charged per number.
Only Basic and Heart to Heart voice minutes, Heart to Heart video minutes and data can be shared. Actual minutes are deducted from the entitled usage on first come, first served basis. Thereafter charge will be applied upon usage is fully consumed.
To check overall usage, please dial *8210.
HK roaming data services and HK roaming airtime services are provided by 3HK. Customers are required to use network service of 3HK. Otherwise, standard roaming rate will apply for using other operators.
Roaming Data Daily Pass provided by "3HK" is not applicable to customers who subscribe the above plans and the data usage in HK will be counted in the shared usage of the monthly plan.
HK-Macau airtime is counted as local consumption. HK-Macau Basic(Inter)Voice Mins refers that 3Customer receives incoming calls and makes outgoing calls to Hong kong or Macau number in Hong Kong. HK-Macau "Heart to Heart" (Intra) Voice Minutes refer that 3Customer receives incoming calls and makes outgoing calls to 3Macau number in Hong Kong.
Standard China IDD Mins charges of 3Macau will apply if customers finish their free entitlement in the monthly plan.
Hutchison Telephone (Macau) Company Limited reserves the right to change the service charges and details without prior notice.